Hadoop and Big Data are the two most familiar terms being used nowadays in the modern world of data space. Today, the internet is full of data, and these data are available in a structured, semi-structured, and unstructured format. Every day around 2.5 Quintillion bytes of data is being generated, and this data is often referred to as Big Data. However, Big Data and Hadoop are both interrelated in such a way that both can't be used without each other. If you are interested in knowing more about big data and Hadoop, you can take an online Big Data Hadoop course.
This article will give you a clear insight into Big Data vs. Hadoop. So, let's get started.
What is Big Data?
Big Data is a collection of very large and complex data, which is quite difficult to store and process using the traditional data processing system or database management tools. When it comes to Big Data, there are multiple challenges, including analyzing, capturing, curating, storing, transferring, and data visualization.
There are three types of Big Data:
Structured – Organised data format
Semi-structured – Partially organized data without a fixed structure
Unstructured – Completely unorganized data which is not easy to analyze
What is Hadoop?
Hadoop is an open-source software framework used to store and process large data clusters. It was developed by the MapReduce system and licensed under the Apache v2 license and applies the concept of functional programming. Hadoop ranks among the highest level Apache projects written in Java programming language.
Hadoop consists of 3 components:
HDFS – Hadoop Distributed File System is a distributed file system designed to run commodity hardware
MapReduce – MapReduce is a programming model for processing and generating Big Data sets in parallel
Yarn – Yarn splits up the functionality of resource management and job scheduling
Now that you know the basics of Big Data and Hadoop let's check out the differences between Big Data and Hadoop.
Big Data vs. Hadoop: What is the Difference Between BIG Data and Hadoop?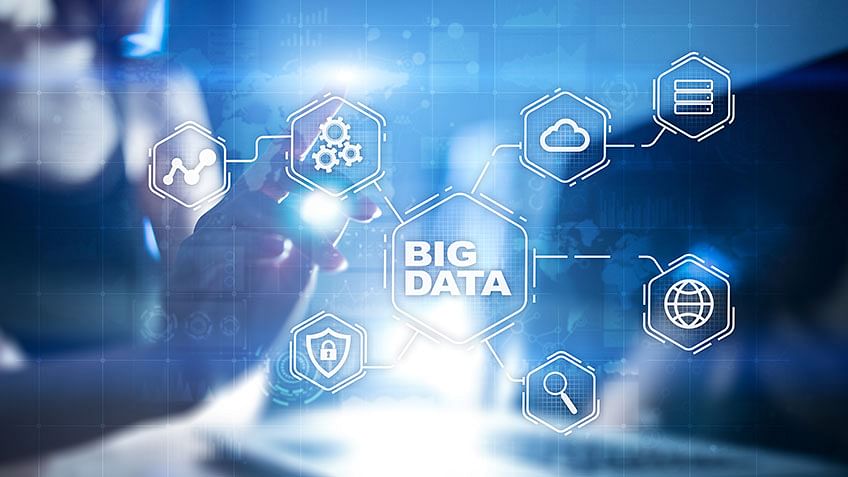 Although Big Data and Hadoop are inter-related to each other but possess a huge difference:
Definition – Hadoop is a framework that can handle the huge volume of Big Data and process it, wherein Big Data is large and complex data often comes in a structured and unstructured format.
Accessibility – You can use Hadoop to process and access the data at a much quicker rate when it is compared to other traditional tools, wherein it's quite difficult to access the Big Data.
Significance – Hadoop framework process Big Data to make it more meaningful, but Big Data has no significance of its own until processed and utilized to generate some revenue/profit.
Storage – Hadoop HDFS can store Big Data, but Big Data is difficult to store as it comes in structured, semi-structured, and unstructured formats.
Value – Hadoop is a solution that solves the complex processing of a huge set of data, but Big Data is a type of problem that has no value until and unless it is processed.
Veracity – Veracity is defined by how trustworthiness data is. The data processed by Hadoop is used to analyze, process, and use the data for better decision-making, but when compared to Big Data, it cannot be relied upon to make any decision, as it has varieties of data that makes it difficult to process.
Nature – Hadoop is treated like a program to bring out the value from the asset. Whereas, Big Data is treated like an asset that can be valuable due to its vast nature with a high variety of information.
Management – Big Data is not so easy to manage due to the amount, volume, and variety of data. But Hadoop is easy to handle as it is a tool that can be programmed.
Application of Big Data and Hadoop
In today's world, big companies use the data for their business growth. Hence you can find the application of Big Data and Hadoop across many industries, such as:
Banking and Securities
Education
Healthcare
Insurance
Telecommunication
Media & Entertainment
Transportation
Utilities & Energy
Manufacturing
The Hadoop technology is being used widely and effectively by many companies across domains, and various Hadoop applications include:
Stream Processing
Fraud Detection
Risk Management
Content Management
Financial Trading
Forecasting
Companies Using Big Data and Hadoop
The companies that are using Big Data and Hadoop are:
Facebook
Amazon
IBM
Microsoft
Infosys
TCS
Dell
AOL
Yahoo etc.
Note* – Big Data is a tool, but Hadoop is a framework.
So, that would be all about the major difference between Big Data and Hadoop.
Conclusion
So, now that you have commiserated with the difference between Hadoop and Big Data, and if you are interested to know more about Hadoop and Big Data, check out the Big Data Hadoop Certification Training by Simplilearn. The training lets you master the concept of Big Data, Big Data tools, Hadoop framework, Hadoop ecosystem, and methodologies to prepare you for success as a Big Data Developer.